Crystal Morey - Entangled Adaptations

Oakland artist Crystal Morey has been gaining momentum and a huge following of admirers over the last few years. It's been a real pleasure to watch her career bloom. We are so excited that Crystal was able to take a little time out of her busy schedule to talk with us about the luxurious history of porcelain, the influence of contemporary politics on the concepts behind her work and her listening preferences when in the studio!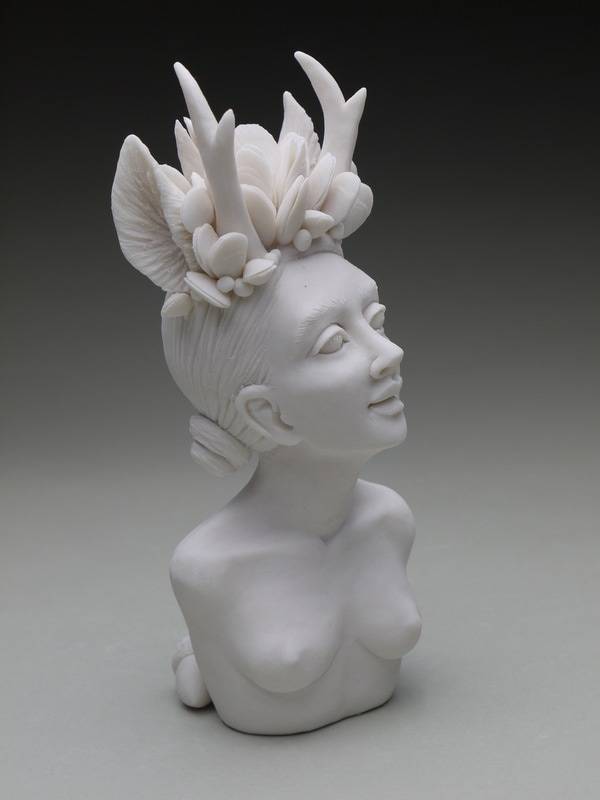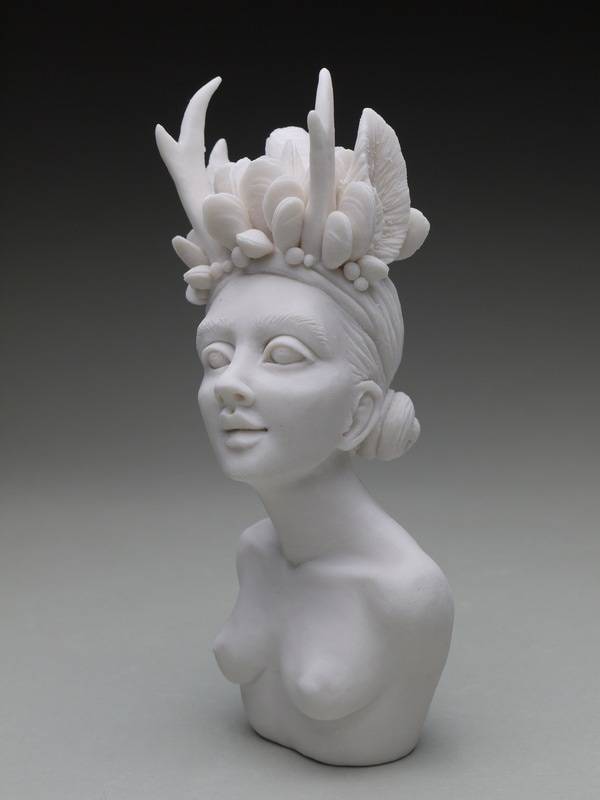 What do you love most about the place you live? How do you think it influences your work?


I live in Oakland California, an old port city with an industrial history and a contemporary urban landscape. For me, Oakland is the perfect place to create my work, the art community is strong and there is so much support in galleries, project spaces, studios and between artists. I find inspiration in Oakland's art community, its excitement and mutual admiration as well as continually changing landscape. I also find inspiration in the landscapes of the Sierra Nevada Mountains and foothills of rural, Northern California. I love the contrast of rural and urban places, of wild lands with mountains, rivers, lakes and trees, of contained cities with roads and big buildings, and how humans and animals find habitats within all spaces.
 
I pull experiences from both industrial and rural landscapes in my creations, and am happy to have both places in my life and experiences.
 
Can you tell us a little bit about the influences and inspirations behind the body of work you've been making over the last twelve months and, if possible, how these two works in particular fit into that?
My recent work continues an exploration into the complex relationships we all share with the natural world around us. Hand sculpted in delicate porcelain, these beings depict anthropomorphic entanglements of humans, endangered and impacted species, plant life and coastal mollusks. These creatures remind us of our connection to the changing landscape of today, and that we are all part of one interwoven ecosystem, supporting and growing together for the long-term health of our world.
 
These two works are highly detailed vignettes of these larger ideas, consisting of human / animal / botanical hybrids. The first piece is a human, pronghorn adaptation, fostering new growth of shells and mollusks from the Pacific coast. I find pronghorns interesting at this time because they are one creature, out of many, whose territory for mating, food and water, will be affected by the creation of a border wall. The second creation is a human, mule deer adaptation fostering mollusks, acorns and oak galls. I find deer to be delicate and majestic in appearance and pivotal in understanding the way food chains can so easily be thrown off balance. Deer populations are affected by the larger predators above them, and in turn affect the growth and quantity of plants by consuming them. These two porcelain sculptures are meant to be precious telling objects, showing us that all natural creatures are connected.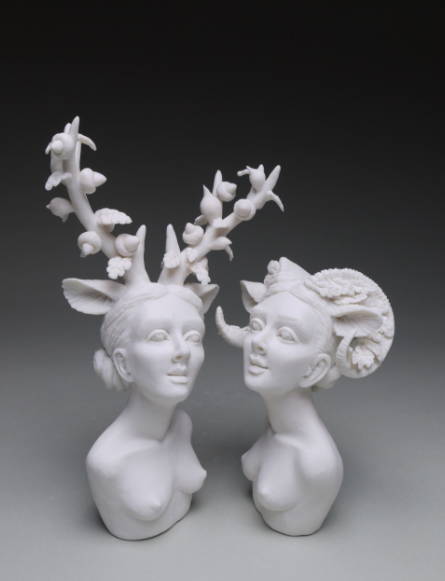 Your work utilizes a finely honed skill to replicate both the human form as well as aspects of the natural world, often hybridizing the two. What message are you looking to impart through this blend of humanity and nature?

My sculptures exist in a narrative that is both rooted in current environmental issues and a myth of my own creation. I see my narrative as a warning of what may come if our actions do not change. I also see my creations as an anecdote that we are all connected, one large woven cycle, bound together by our need for a healthy planet.
This narrative explores an imaginary landscape expanding on a conversation of climate change, the manipulation of evolutionary processes, and where our actions may lead. In this land, a shift has occurred and we find the earth in a state of imbalance. In order to continue, humans and animals have become one, intricately and physically bound together, dependent on each other with a new ability to restore natural life. This alternate world reminds us of our connection to the plants and animals around us, that we are all part of one interwoven ecosystem, supporting and growing together.

Your medium is an ancient one with very traditional connotations. What decisions led you to make these works in porcelain and how do you think the medium influences your creative output?
 
Porcelain is a material with a long and interesting history. In our day, porcelain is commonplace, found in most modern kitchens. But in 17th century Europe, fine porcelain objects were a sign of extreme luxury, reserved for only nobles and aristocracy. European interests in porcelain came from China where porcelain traditions have been developed for thousands of years, creating delicate, detailed and magnificent creations consistently for centuries.  
 
I see porcelain as having qualities of delicacy and impermanence, the ability to capture and record fine detail, and a history of privilege. In my own subject matter I want to use this delicate material to talk about the most vulnerable creatures and in our ecosystem, and how we as humans relate with them the natural world around us. I hope to create a congruous narrative of strength and fragility, a balance that can easily be disrupted, leading to unknowable outcomes.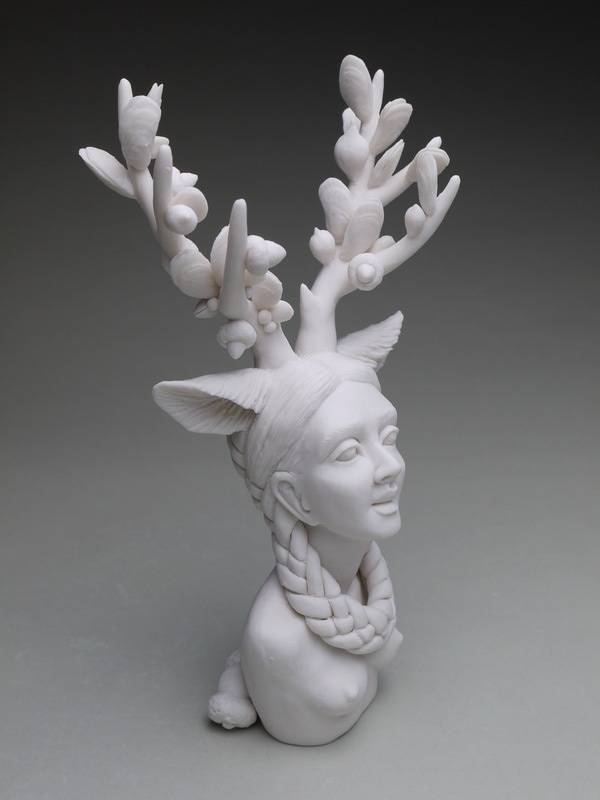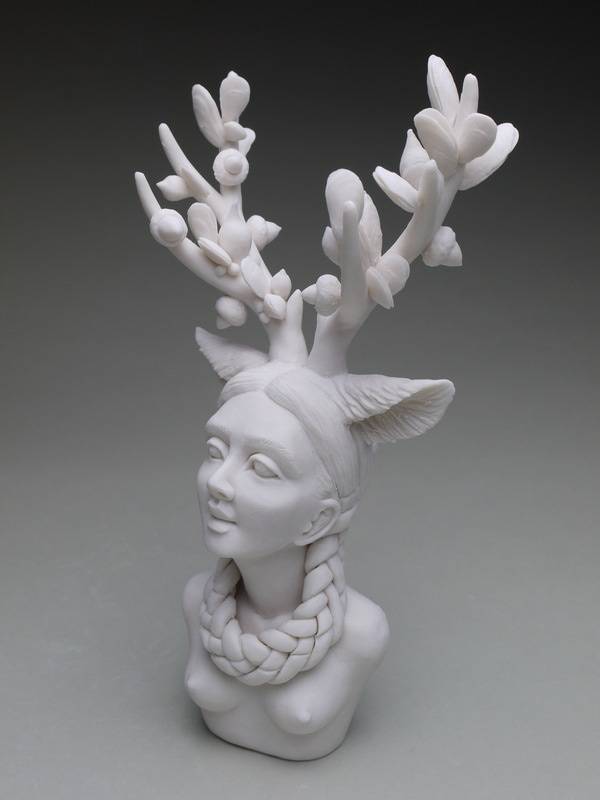 Do you listen to/watch any form of media while working? If so, what is it and how does it influence your process?
I listen to my local NPR station, KQED, everyday! I love Forum, The Takeaway, The World, PBS News Hour, Fresh Air, Science Friday, and Marketplace to name a few. I like to stay informed with what is happening politically, socially and environmentally, locally as well as in the world. All of this current information finds ways into my work, keeping me aware of many issues. I also listen to podcasts such as This American Life, Serial, S-Town, The Leap, 2 Dope Queens, Five Thirty Eight Politics, and Q'ed Up to name a few. Most of the time I have to be very focused, really looking at my sculpture as I build, although sometimes I can sneak in a few art historical documentaries on YouTube. I love art history and am always trying to learn as much as I can. Lately I have been really interested in learning about French Decorative arts and specifically Rococo porcelain of the 17th century, watching documentaries on the Meissen and Sevres porcelain manufactories.

In terms of politics the world around us has changed significantly over the last six months. Do you see the current political climate as something that might influence either the message or subject matter of your work over the coming months?
The last few months have been really unbelievably difficult, in many ways it feels like we are going back in time and losing so much progress that has been made in recent years. There are so many causes that need attention. My work has always had an underlying environmental edge, interested in delicate eco-systems, endangered flora and fauna, and the influence of humans in the age of the Anthropocene. Our current political climate has made me want to push these environmental issues even more, realizing there are new threats with environmental deregulation, Arctic oil exploration, the Dakota Access Pipeline, mountain top removal, and the list goes on. The short-term interest to make a quick buck is overshadowing the health and sustainability of our natural habitats, lands that have been here long before us and have importance that we can't even begin to understand.

Your work has been growing in popularity over the last few years, gaining you new collectors and critical acclaim. How has this changed your approach to your work? Can you identify a couple of main pros and cons?
I am so happy for all the support and interest my work has received over the past few years. I am totally overjoyed by the generosity in my arts community, the galleries I work with, publications that have written about my work, and to all the amazing collectors that have taken interest and added a piece to their collection. With more opportunities, I am able to put more hours into the studio, allowing me to dive deeper into concepts, pushing my sculptures on a visual and technical level, and creating sculptures that are more detailed, dynamic, emotional, and complex. My technical skills are growing all the time, which is really exciting and I can't wait to see what life will bring!