Josh Keyes
Please feel free to inquire about payment plan options.
---
Josh Keyes is an artist with deep roots in the Pacific Northwest. He grew up in Tacoma, Washington and currently lives in Portland, Oregon. His academic career took him to The School of the Art Institute of Chicago where he received his BFA, before going on to Yale University School of Art for his M.F.A. in painting and printmaking.
We have been showing Josh Keyes' incredible paintings for the past four years and are thrilled to present these newest works as part of our exhibition at SCOPE Miami Beach. Keyes' career to date has offered us some alarming visions about where our society is headed, with particular attention paid to the environmental impact of humanity.
The pieces Keyes has created for this show offer a glimpse at the evolution of works he will make moving forward, offering more symbolic paintings which are open to personal interpretation. The artists career trajectory is leading him towards an emotional cinematic expression which leans towards a more fantastic, visionary series.
"Boiler" is underpinned by the core concept of expressing a devastating shift in temperature in the wold's oceans due to climate change. The painting is dominated by an intense red color palette, allowing the viewer to see the scene through this filter while also signifying blood and extreme heat. Keyes asserts that "The orca for me is a very strong, visually striking and emotive animal. It reminds me of the yin yang symbol, balance, fluidity and organic change, and this phenomenon of balance and equilibrium in nature is under threat."
"Churn" is an extension of other recent paintings that feature two animals either fighting, dancing, or performing a mating-courtship dance. From a symbolic point of view it expresses the rhythm of time, represented by the large ominous waves, and the movement of existence that is our field of experience. Within this pattern and flow we find our own personal dance with the world, ourselves and others. Churn speaks to the endless field of change in both the world and in our own lives.
---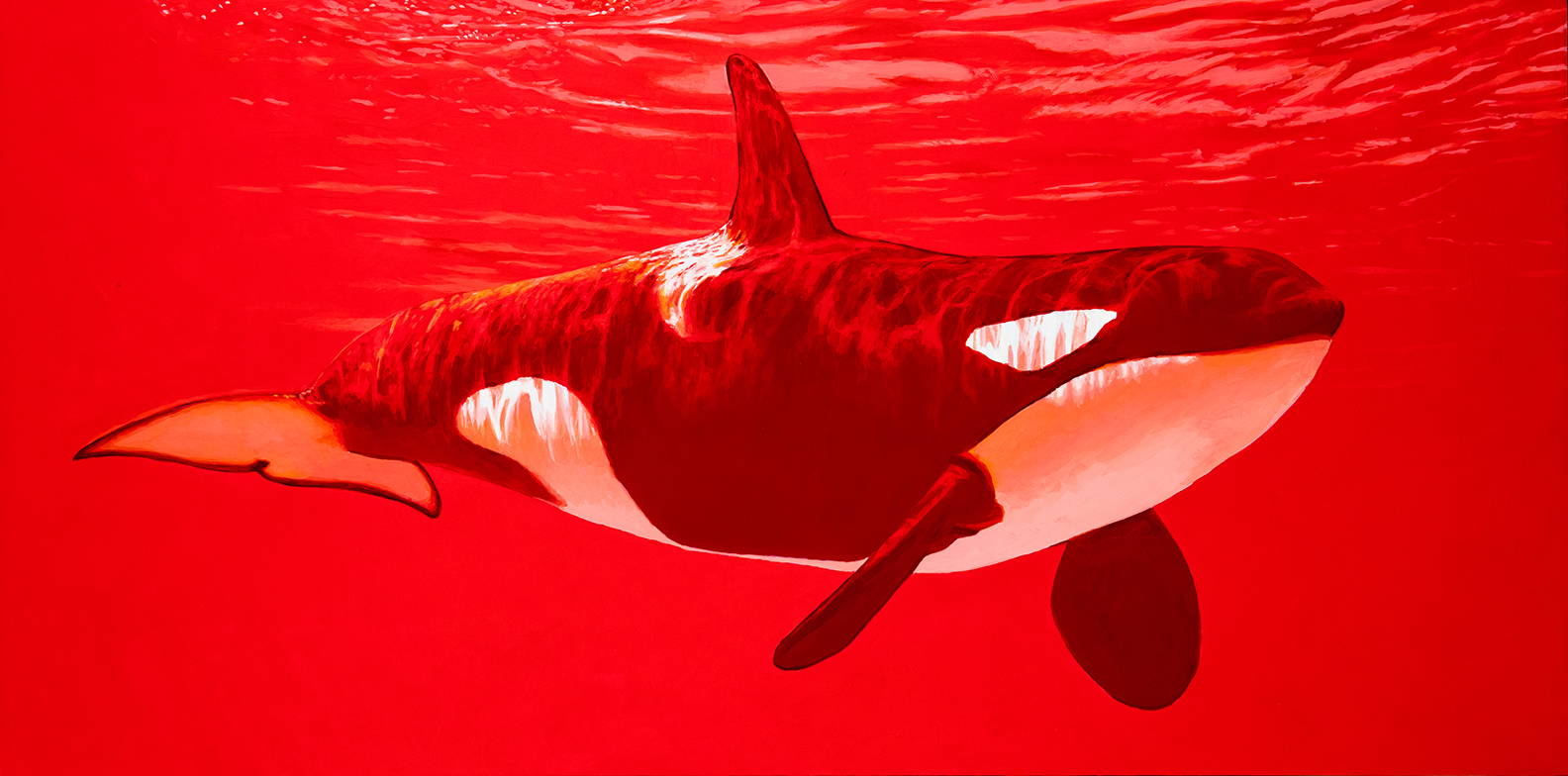 ---