We offer a payment plan on all original works, please feel free to inquire.
---
These six drawings feature at-risk snake species found in the United States, exploring concise visual language that nods to the fragility of these beautiful reptiles.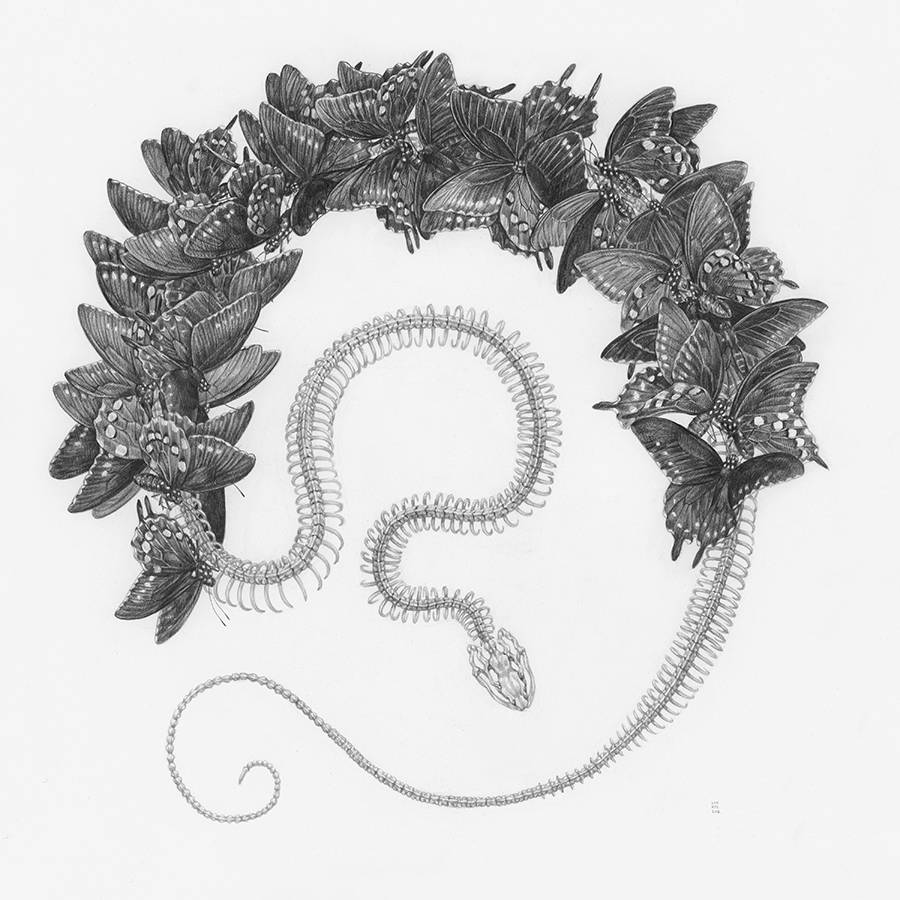 Giant Garter Snake and
Pipevine Swallowtail
Graphite on Paper,
14" x 14"
$950
---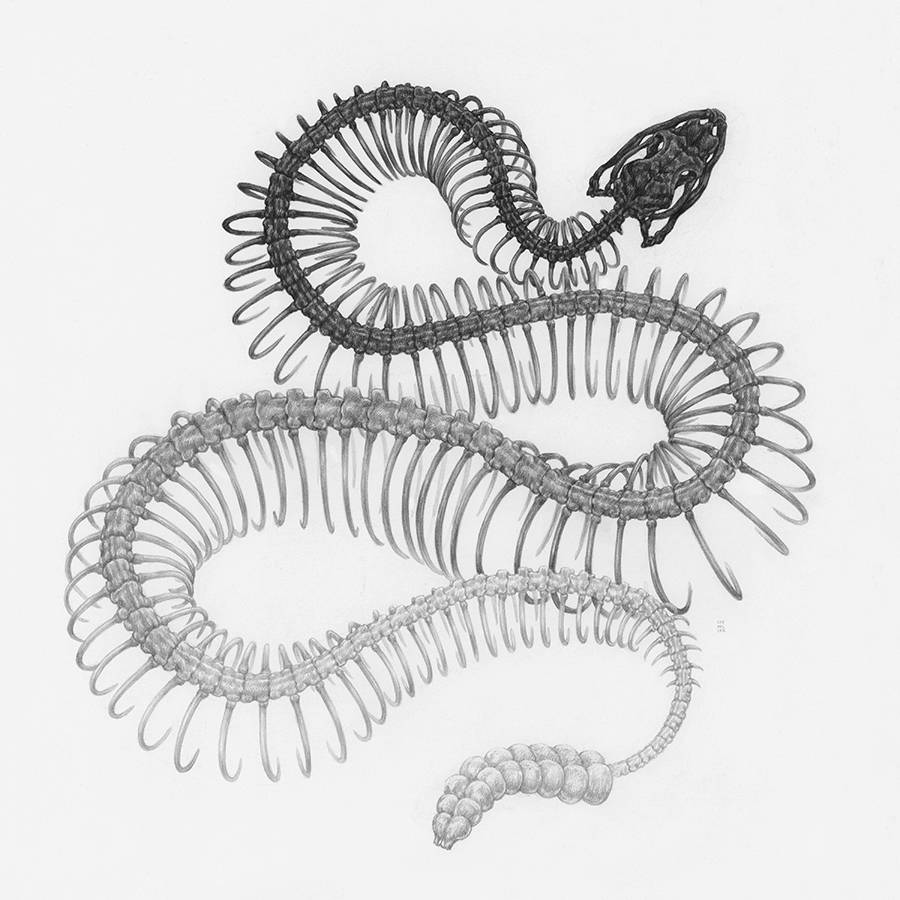 New Mexican Ridge-nosed Rattlesnake
Graphite on Paper, 14" x 14"
$950
---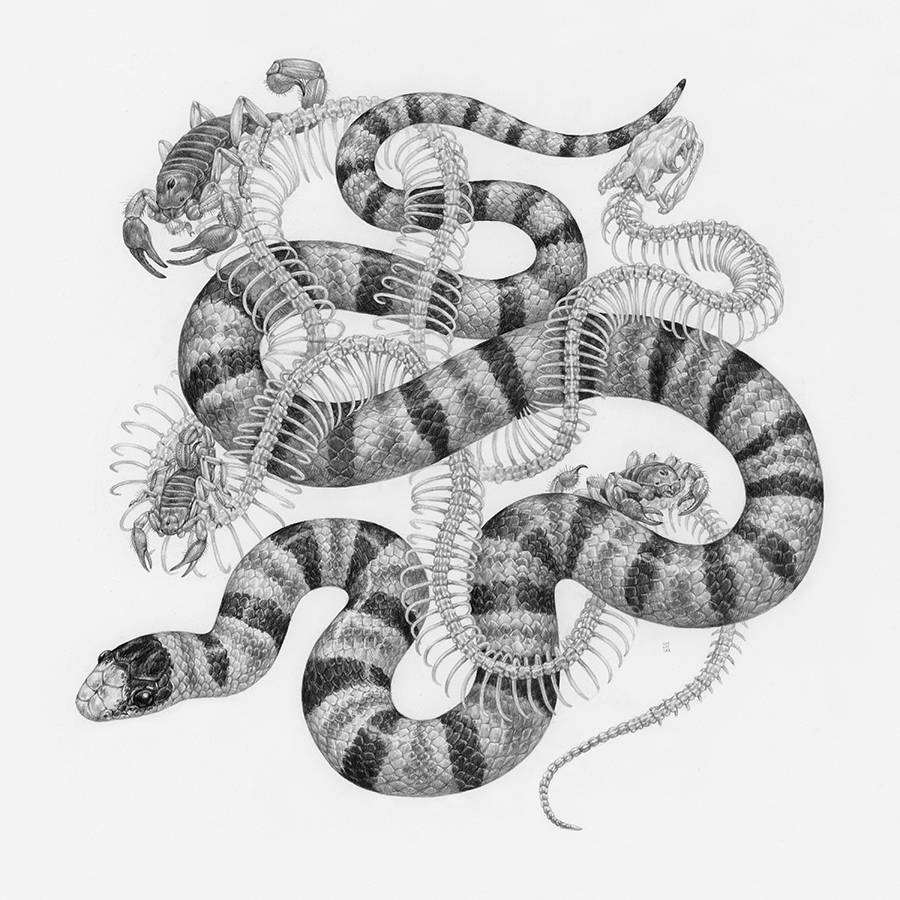 Tucson Shovel Nosed
Snake and Desert Hairy
Scorpion
Graphite on Paper,
14" x 14"
$950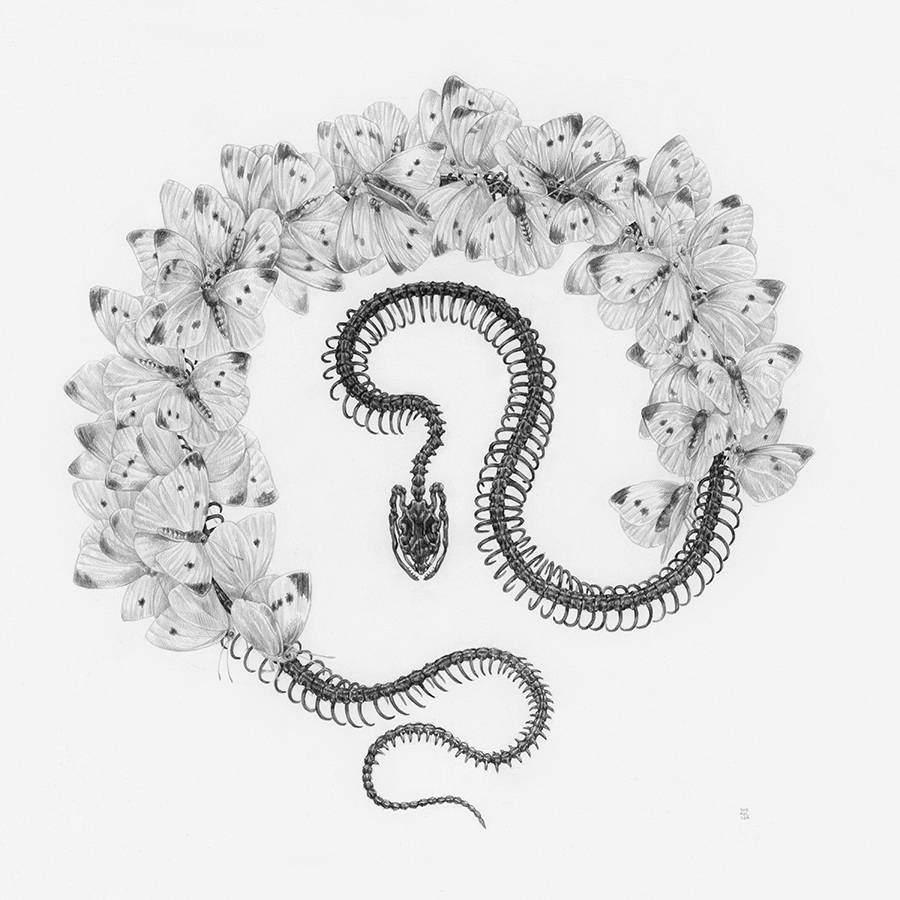 San Francisco Garter
and Cabbage White
Graphite on Paper,
14" x 14"
$950
---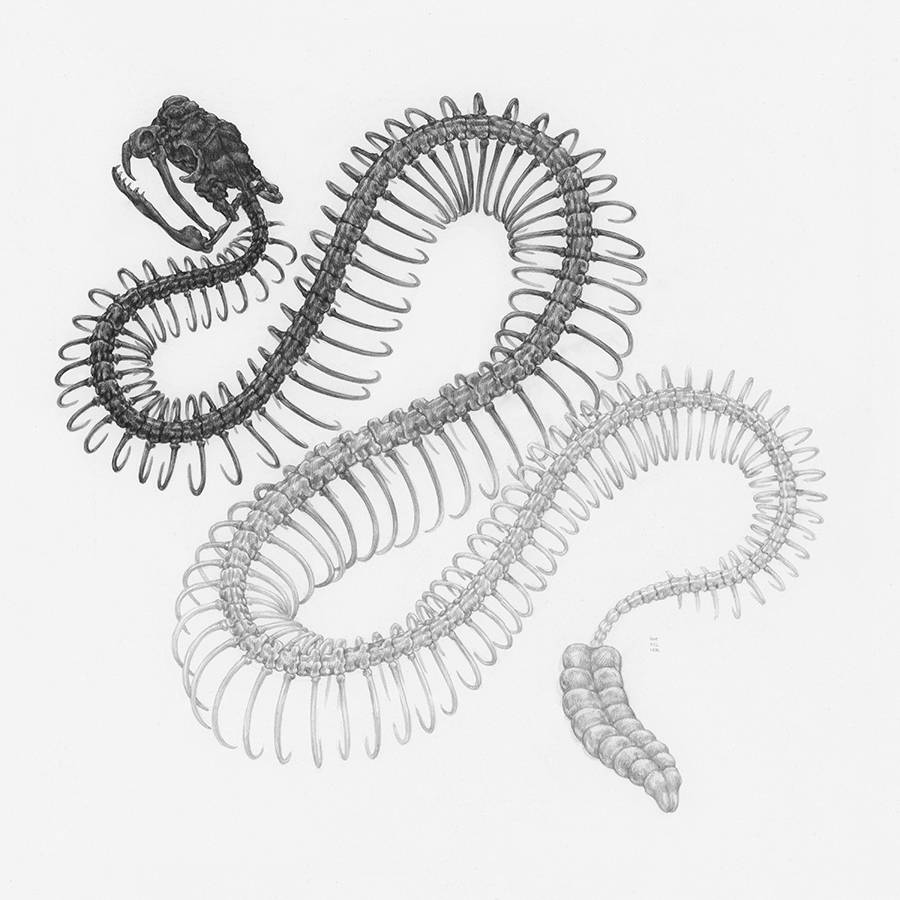 Eastern Massasauga
Graphite on Paper,
14" x 14"
$950
---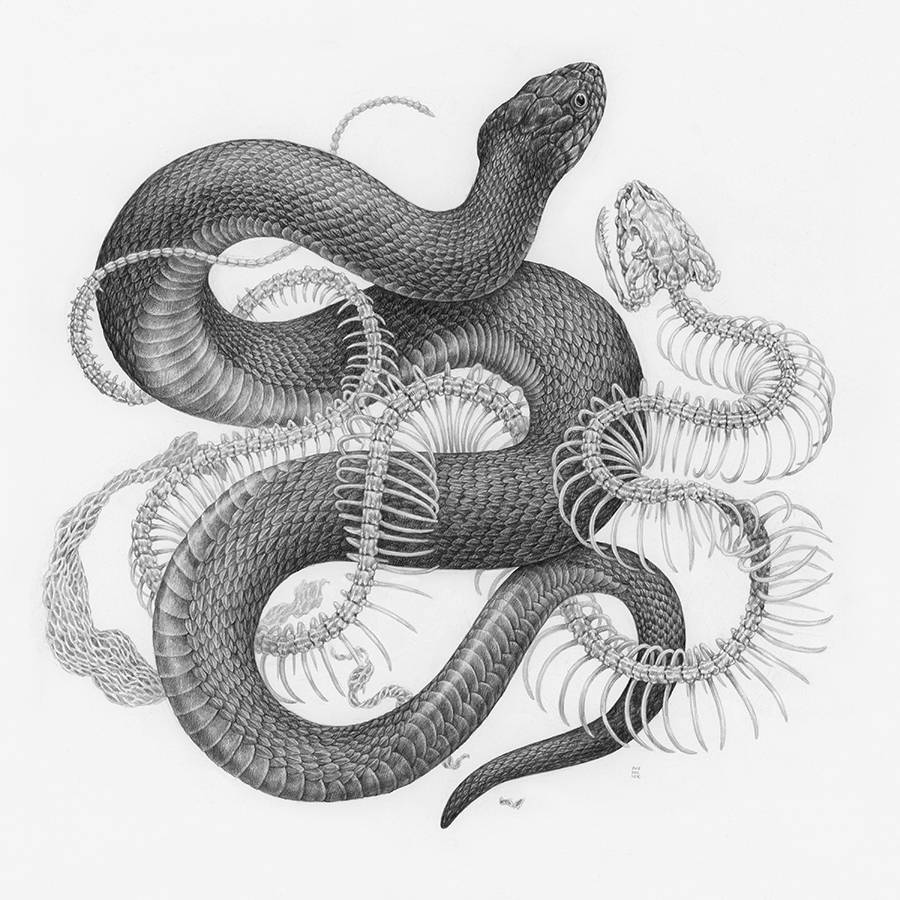 Copperbelly Water Snake
Graphite on Paper,
14" x 14"
$950
---
Longleaf pine forests once covered 90 million acres in the Southeast, stretching from Virginia to Florida, and west into eastern Texas. Today, only three percent of the original forest remains, lost to hundreds of years of commercial logging, fire suppression, the conversion of forest to urban development and livestock grazing, and the replanting of forests with faster growing species of pine. These rich forests are dominated by their namesake Longleaf pine, an evergreen conifer that grows 80 to 100 feet (24 to 30 meters) tall and has leaves that can grow up to 18 inches (46 centimeters) long. But there is much more to these forests than Pinus palustris; mature longleaf pine savannas can contain up to 40 species of plants, making them one of the most diverse plant communities on the globe. Even in their fragmented state, remaining stands of Longleaf pine forest harbor almost 200 species of birds and hundreds of animal species. More than 30 of these species are endangered and threatened, including two species of snakes that have been designated as threatened at the federal level: the Eastern Indigo Snake and Black Pine Snake. Although it has not yet received Federal designation, the fate of the Eastern Diamondback Rattlesnake is inextricably linked to that of the longleaf pine ecosystem, and has declined with the loss of its habitat. The three pieces in this longleaf pine forest series explore these at-risk snakes and the species they share longleaf pine forests with.
Black Pine Snake
Graphite on Paper,
34" x 43"
$4500
---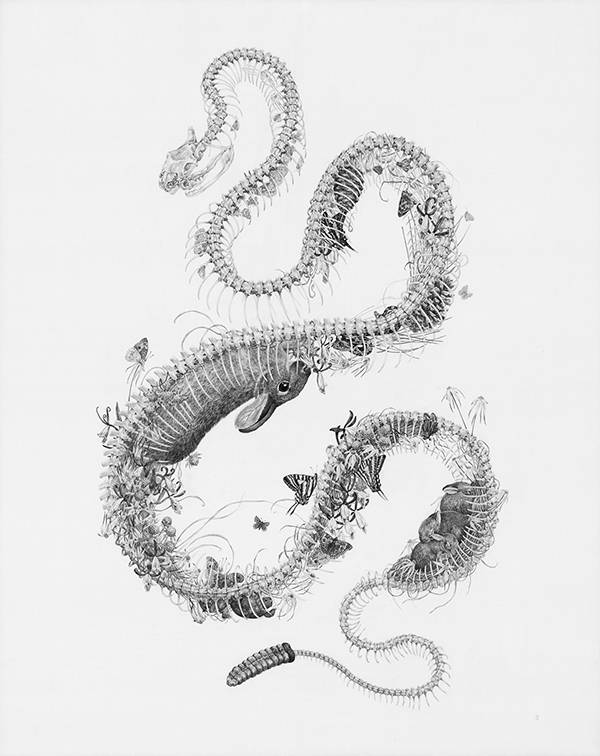 Eastern Diamondback
Rattlesnake
Graphite on Paper,
34" x 43"
$4500
---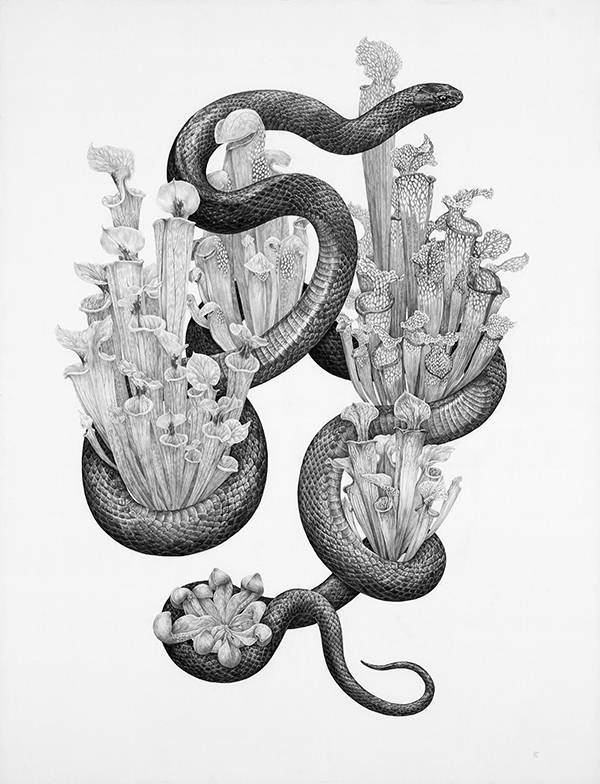 Eastern Indigo
Graphite on Paper,
27.5" x 36"
$3000
---
The South Florida Rainbow Snake, known from only
three specimens and last collected in 1952, was
declared extinct by the U. S. Fish and Wildlife Service
in 2011. Unconfirmed sightings of the elusive nocturnal
snake have led some scientists and advocates to argue
that this designation was assigned too soon, and a
$500 reward has been put up for documentation of its
existence.
Are We Ghosts
Graphite on Paper,
27.5" x 36"
$3000